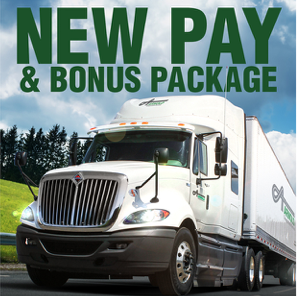 We have a NEW Pay Increase,

NEW
¬
Stop Pay, and we have Increased our¬
Two Day Orientation Pay! Apply today for your NEW driving career with Arnold Transportation!
¬ ¬ Our
Arklahomatex Drivers
(Houston, Dallas, Tulsa, & Oklahoma City drivers) will now
Earn up to \$0.49 CPM
and get home every weekend for 34 hour reset on Saturday or Sunday! ¬
¬ We have Increased our
2-Day Orientation Pay to \$2,000.00
! This increases your weekly income over the 1st 60 days! ¬
At¬
Arnold Transportation
, we understand the connection between our freight and our drivers' success. We know that it goes beyond simply extending great pay to our drivers. It means providing quality of life. Below are great reasons you should choose Arnold as your next driving career! ¬ ¬
- Southwest Regional Lanes!
-¬ We are the #1 Regional Carrier!
- We don't travel the NE or NW!¬
- Paid Vacation!
- Stop Pay Increase!
- One of the best CSA scores in the industry!
- No slip seating! 85% of our Equipment is 2015 or newer
- No sliding pay scale. Paid all miles loaded and empty
- One of the best benefit packages in the trucking industry
- Rider and Pet Friendly!
- Approximately 25 to 1 Driver to fleet manager ratio! ¬
A growing company with advancement opportunities that treats you like a team member not a truck number! Come grow with us! Give us a call today to get started next week! We will be glad to take your information over the phone or you can apply!